As consumers increasingly demand to know the nutritional value of what they eat and drink, European food production companies and large-scale caterers move towards adopting the Nutri-Score labelling system.
Nutri-Score — which is an easy-to-understand, colour-coded graphic representation of the quality of nutrients in a product — is, nonetheless, rooted in complex peer-reviewed and science-based nutritional calculations.
Apicbase does these calculations automatically based on the users recipes in the system and generates the label, giving food production companies an easy way to comply with consumer wishes.
Yes, even your customers and patrons are becoming more aware and conscious of their food choices. They are shifting their focus on the importance of a balanced, healthy diet — they want to know what they're eating… and is it something that their doctor would recommend?
Enter Nutri-Score — a science-based nutritional value labelling system developed by the French national public health agency Santé Publique France. It uses a 5-letter grade, colour-coded key to assign foodstuffs and beverages to their appropriate nutritional brackets, allowing for quick identification of highly nutritious products and menu items.
Nutri-Score is based on rock-hard, peer-reviewed science. In a 2020 study conducted in Switzerland on a sample of 1088 consumers, Nutri-Score was voted the most efficient Front-of-Pack labelling solution, meaning that people exceedingly trust it to make better, more informed dietary decisions.
In this post, we'll talk about three important things that concern Nutri-Score:
What Nutri-Score actually is (and what it's not);
How it's calculated and graphically represented, and;
How Apicbase can help you shortcut and automate those calculations.
Let's dig in…
What is Nutri-Score?
Nutri-Score (also called 5-Colour Nutrition Label) is an easy-to-understand, science-based nutritional value labelling system for foodstuff and beverages.
A Nutri-Score calculation pinpoints the nutritional value of a product (based on the ingredients) and assigns it to one of the five colour-coded letter grade classes (A, B, C, D, or E). Products that get an A score have the highest nutritional value — those that score an E have the lowest nutritional value.
Nutri-Score is not a mandatory labelling system but more and more EU countries are recommending it (including France, Germany, Belgium, Netherlands, Spain, and Luxemburg).
In fact, French food service provider Elior (which serves 1.4 million meals to businesses, hospitals, schools, and retirement homes every single day) is currently testing Nutri-Score labels with the aim of deploying the system across all of their establishments (they would be the first large contract catering business to do so if the 2020 tests prove satisfactory).
Generally speaking, the purpose of the Nutri-Score label is three-fold:
to encourage healthier diet choices by making nutritional values easy to understand (and featuring them prominently on the packaging);
to provide consumers with a simpler way to compare nutritional values of similar (or same) products by comparing their Nutri-Score grades, and;
to prompt food manufacturers to improve low-quality products through reformulation and innovation (while chasing a higher Nutri-Score grade).​
However, it's important to note that a low Nutri-Score letter grade does not make a certain product bad.
It makes it less nutritious than the ideal but it does not pass judgement on its quality.
In fact, some opponents of the Nutri-Score system call it "inadequate", saying that it will prompt consumers to favour only green-labelled products despite the fact that those might not satisfy all their daily nutrient requirements.
Calorie Labelling Legislation UK
From 6th April 2022, it's mandatory for certain food businesses in England to display the calorie content.
What Does a Nutri-Score Calculation Look Like?
The Nutri-Score letter grade system looks simple, right?
And it is simple… for the consumers.
It was designed to be simple — there's not much point in creating a nutritional value label that comes with a 100-page user manual, is there?
Here's how the scoring tables look like: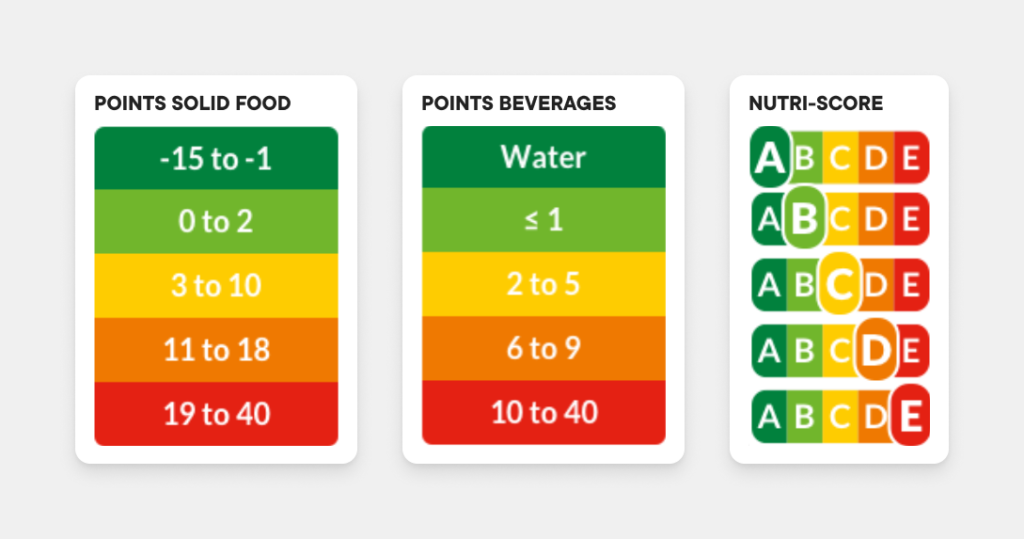 Easy-peasy.
But… notice those -15 to 40 scores on the left-hand side of the tables?
Those are nutritional value scores, and the calculations for them are hard, college-level math… to put it mildly.
Basically, the nutritional value for the Nutri-Score letter grade is determined by subtracting the total positive points from the total negative points. And the lower the score, the better the letter grade.
It's slightly counter-intuitive but high-quality nutrients — protein, fibre, fruits, vegetables, nuts, legumes, and olive, walnut, and rapeseed oils — earn negative points for the product (from 0 to -5, depending on the overall percentages and grams per 100 grams).
Low-quality nutrients — energy density, sugars, saturated fatty acids, and salt — rack up positive points (from 0 to 10, again depending on grams or KJs per 100 grams).
These calculations become extra complex when you take into account that the scoring changes based on the ingredient condition, manufacturing process, variety, and more.
Right now, the Elior Group (mentioned above) has 600 nutritionists and all of their chefs manually and painstakingly analysing all the recipes and menus, and calculating nutritional scores.
Oooof — that's a lot of work!
Luckily, Apicbase can help you automate this process for all of your food and beverage products. Once you've entered the product data into the system, our software takes care of the tedious calculations.
You will then be provided with a printable and shareable Nutri-Score graphic label.
Learn more about how to generate a Nutri-Score for your products using Apicbase.
Important note: Please keep in mind that the Nutri-Score labelling system is trademarked and registered by the Santé Publique France.
To use and display it, you will need to check if your business is eligible and submit the necessary documentation. If you do decide to use Nutri-Score, you will need to apply it on all of your products.
The application process is described on the SPF website (and the necessary documentation is available in English).
How Can Adopting Nutri-Score Help Your Food Service / Food Manufacturing Business?
Less than 30 years ago, not having allergen information on hand was seen as no big deal in the food manufacturing and foodservice industries.
Today, that's a deal-breaker to the growing numbers of allergy sufferers…
Information on the nutritional value of food will become as important as allergen information for food businesses.
Consumers are wising up — they want tasty, quality, and healthy food. And they'll pass on those businesses that can't provide all three.
That's where Nutri-Score labelling comes in. It allows consumers to quickly scan and compare the nutritional value of products.
With Apicbase, food production companies can calculate the Nutri-score of their products based on the recipes in the system and generate a label.
Get in touch with our experts, and learn how to easily and seamlessly incorporate Nutri-Score labelling into your business.
Schedule a 30-minute Apicbase Demo Today